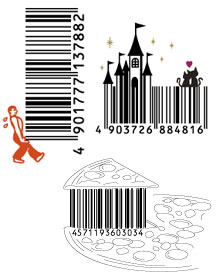 These came out in Japan a while ago. Basically they are barcode artworks.
Instead of having a bunch of meaningless bars on a product that people never pay much (or any) attention to, the unique designs on these barcodes usually brings a smile to the viewer. The designs incorporate messages about the product, turning them into mini advertisments. The company's intention is "to bring people a sense of healing, inspiration, and emotional enrichment."
This is definitely not a product that is going to bring in big bucks for any company, but it's just nice to see people put in time for fun things like this. While we're on the subject of barcodes, in Japan, this is called barcode hair!
Visit Design Barcode.
****

Make Bar Codes a part of your business in no time with easy o use Barcode Scanners and a reliable Zebra Printer you can track all of your inventory.