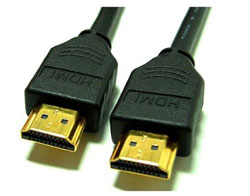 By Shane McGlaun
It hasn't been too long now since HDMI specification 1.3 came on the market and it's already time for another specification to drop. I am glad to see that the HDMI Licensing company doesn't sit on its laurels when it comes to adding new features to HDMI.
The full specification is due to be available for download no later than June 30, 2009. Until we can see the full specification, we do know a few of the features that HDMI 1.4 will offer. One of the most interesting is an HDMI Ethernet channel that allows HDMI connected devices to communicate at 100Mbps without needing another cable. An audio return channel is also featured in the spec along with support for 3D over HDMI.
Supported resolution gets a boost with support for up to 4096 x 2160 at 24hz and 3840 x 2160 at 24/25/30Hz. The new spec supports expanded color spaces as well like Adobe RGB. A new micro HDMI connector is also part of the spec aimed at making 1080p connections available for portable devices. The new connector is 50% smaller than the existing HDMI Mini connector is.
[ HDMI.org ]