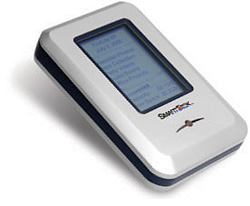 By Andrew Liszewski
From SmartDisk comes an extension to their FireLite line of portable hard drives with the FireLite XPress. What sets this version apart is the use of a cholesteric liquid crystal screen (like e-ink technology but with a much slower refresh rate) that allows it to display information about the drive even when the unit is not powered on or connected to a computer.
With the included software the user can adjust what information is shown on the screen and how it is displayed. For example with a 6-point font size the 240 x 160 pixel screen will display 12 lines of text. Displayed information can include the user-designated drive name, the last date data was transferred to the drive and even a list of the drive contents. (Though unless the display can be scrolled a table of contents for a 60GB drive will probably not fit on a 12 line display.)
The FireLite XPress drives with the always-on display should be available in June and will retail at $199.99 for the 60GB model and $299.99 for the 120GB model.
[SmartDisk FireLite XPress Portable HD] VIA [Rob Galbraith DPI]