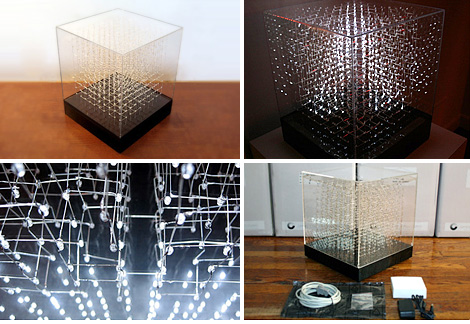 By Andrew Liszewski
I usually try to avoid concept designs as much as possible because quite frankly no matter how cool they are, odds are you're never going to own the device. So I'm quite happy to see that those LED-based 3D display cubes that made the rounds of the gadget blogs a few months back are now actually for sale.
Made by James Clar & Associates the 10-inch cubes are basically a plexiglass box that contains a 3D grid of 1000 white LEDs all wired to a microcontroller. The whopping 512k of built-in memory allows you to store a custom animation up to 5 minutes in length which can be played back on the LEDs. The kit also includes jumper pins allowing you to sync multiple cubes together for more elaborate displays.
The 3D Display Cubes are currently available from James Clar & Associates for $3,000 a piece.
And if you're curious about how the cubes are programmed this Photoshop tutorial on their website shows how to make a custom animated gif which can then be 'compiled' via their custom software to make the 3D animations.
[3D Display Cube] VIA [electro^plankton]