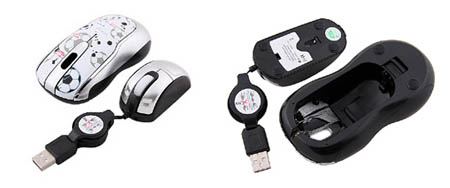 By David Ponce
Nothing like the sight of a mouse giving birth to lift your spirits in the morning. Especially if that mouse is the kind that connects to your computer (not the one that steals your delicious cheese).
The World Cup 2006 USB Twin Mouse is a standard USB/PS2 800dpi optical mouse. However, it happens to fit within its belly yet another, smaller mouse for travel. Useful if you're a utilitarian type, I suppose.
Aside from this trick, it's feature list is pretty vanilla. It's $22.
[Twin Mouse] VIA [UberGizmo]