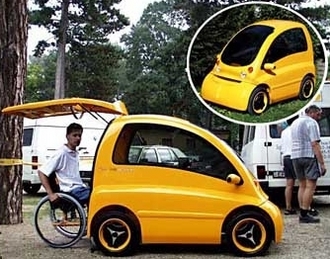 By David Ponce
Disabled people have it tough. Not only because of their reduced mobility, but because car manufacturers rarely design for them… rather they design around them. In other words, cars that disabled people drive were not designed with them in mind; they are regular cars that have been adapted so that the disabled can use them.
Not so with the Hungarian Kenguru. This small car was designed so that a wheelchair bound person can just roll in, and securely fasten their chair in place. It is then possible for them to simply drive off, without ever having to hoist themselves out of their wheelchair. The car is controlled via a joystick.
Since the site is Hungarian, I have no idea what price and availability look like, but there you have it.
[The Kenguru] VIA [The Cool Hunter]

Update: Ok, turns out it's around $12,500, and possibly even free with healthcare if an individual qualifies. Go Hungary! -Ed.