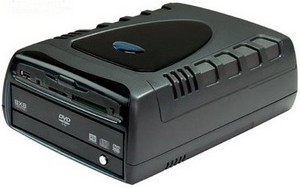 By David Ponce
I don't wanna hurt its feelings, but the Media Tank is one chunky MoFo. At 245mm X 176mm X 83mm and 695g, this external media reader will pretty much negate whatever space savings you might have accomplished by purchasing an LCD screen. Still, if having a machine that reads most of the digital media you own, regardless of the format, means that it's got to be a little chubby, then so be it.
The Media Tank comes with a DVD burner, a 3.5 HDD (Hard Disk Drive, not included), and a 6-in-1 card reader (CF I/II, MD, SD, MMC, MS/MS PRO). It even packs its own fan! It sits on your desk and connects to your PC via USB 2.0
Starts at around ?150.
[The Media Tank] VIA [Xataka]