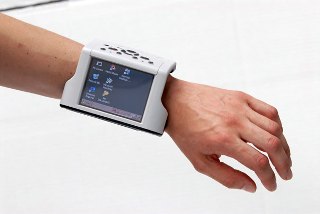 By David Ponce
I refrained from posting about this some time ago, because back then this thing looked like vaporware. The website was full of nonsensical copy, and all the CG glory didn't inspire my confidence. Now, at least, we have what looks like a live shot, so here goes.
The Zypad WL 1000, from Eurotech, is a wrist-worn PC that runs Linux or Windows CE, and weighs 300 grams.
It is based on a Raza Microelectronics 32-bit MIPS-based AU 1100 processor (formerly offered by AMD) clocked at 400MHz. It has 64MB each of flash RAM and flash ROM, with expansion available through an SD card slot.

The Zypad WL 1000 has a 3.5-inch QVGA (240 x 320) touchscreen with automatic contrast adjust. It also features an 11-key backlit keypad.

Network interfaces include 802.11b/g, GPS, and PAN Bluetooth class 2 (32 feet), each with integral antennas. The device also includes USB 1.1 host and device ports, along with stereo audio I/O.
With an expected price tag around $2,500, the device is more likely to be picked up by the army, healthcare, Homeland Security and other industries, rather than average-joe consumer.
[The Zypad WL 1000] VIA [Technology Trends]