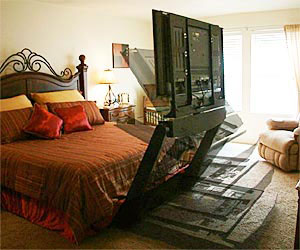 By David Ponce
The Underbed Lift, from MK1 Studios has been around for a few years. But in light of recent plasma screen hiding systems, we figured we'd bring you info about yet another alternative. Now, we're not sure why you'd want to be stashing your brand new 50 inch plasma anywhere, but if, say, the wife really doesn't want it on her walls, then maybe she won't object to having it stored under her bead. Yeah, so when you want to watch the game, late at night, from the comfort of your bed, you need only to press a button, and the Underbed Lift mechanically pulls the screen out from under the bed, and raises it up to optimal viewing height.
A 50? panel with Amplifiers, DVD, VCR, Subwoofer, and 7 channels of surround can be concealed beneath a King size bed and a 42? panel and all the same equipment can be concealed under a Queen size bed. Both only take 45 seconds to deploy.
You apparently only need 8 inches of clearance under your bed, and you're good to go.
We're not sure how much this costs, since we couldn't find a price anywhere on the site, but maybe we're just incompetent.
[ Product Page (With video)] VIA [ Ounae ]
****

Find out other options for Huge Beds with lost of space underneath the latest Bed Sets available give you plenty of options for whatever space you have.