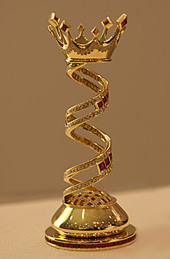 By David Ponce
This is not tech, nor is it new (been around since 2005 it seems), but nothing beats reading about mindless extravagance on a Monday morning to get the week started. The Jewel Royale (Chess Set) Company seems to have been set up for one purpose only: to commission, oversee the production and eventually profit from the world's most expensive chess set. If it actually ever sees the light of day, the set would be valued at £5 million. It would be made from a cornucopia of precious stones and metals.
Right now however, all that seems to exist is the King.
Weighing in at 165.2 grams of 18 carat yellow gold, the hand made King has a uniquely turned underneath achieved using the 'guillochet' method. The magnificent piece is set with 73 rubies, 146 sapphires, 748 diamonds and a secreted pearl
The company hopes to eventually complete the set, and parade it around at various shows and exhibitions. They also hope to license it for use in film, or profit from luxurious brands wishing to be associated with its image.
Whether or not any of this will ever happen is still up in the air though, as the last piece of news to come out from the company dates from April 2006, nearly a year ago.
[ Jewel Royale ] VIA [ BornRich ]