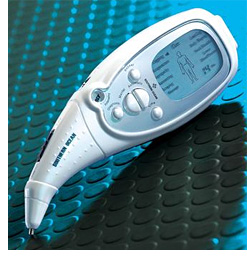 By Andrew Liszewski
Depending on where you stand in terms of the actual benefits of acupuncture this may seem like the greatest device ever or you may choose to spend your money on a big box of placebos instead. Either way I'm definitely no expert on acupuncture or for that matter really know the first thing about it besides seeing it performed once in a cartoon so I won't jump to any conclusions.
That being said the Acu-Point pen apparently uses specially designed electronic acupuncture probes which can simulate a traditional acupuncture treatment in the comfort of your own home. Using the built-in LCD screen you can diagnose ailments or pinpoint specific areas of your body that are cause for concern simply by passing the Acu-Point pen over your palm. The power of 2000 years of ancient Chinese medicine is also powered by 2 AAA batteries which are included.
The Acu-Point Pen is currently available from Gadget Universe for $99.95.