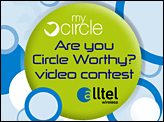 By David Ponce
You a budding cinematographer? Think you can still show off your skillz if you're forced to shoot with a cameraphone? Well, my man, there's $5,000 in it for you if you can do it in style.
Alltell and Atomfilms have partnered up in a contest called ?Are you Circle Worthy?, which is tied to the recent launch of Alltel?s exclusive ?My Circle? calling feature. ?My Circle? enables Alltel Wireless customers to receive free unlimited calls to and from their ?My Circle? numbers any time of day.
So, the idea is, you get your posse, shoot an award winning short between 3 and 60 seconds, and send it in. 5 finalists will be chosen and given $1,000 each. Then, Atomfilm's readers will vote on a winner, who gets the $5,000.
With limited editing capabilities, it'll be interesting to see what sort of stuff comes out of it.