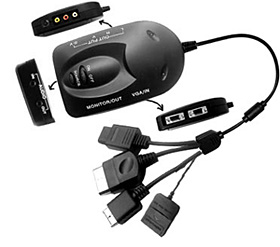 By Andrew Liszewski
I guess if you live in a particularly small apartment and don't have room for both a computer monitor and a seperate television this could come in quite handy. Or maybe you're so lazy you never want to leave your computer desk, either way this box will allow you to connect your GameCube, XBox or PS2 to your monitor via its VGA connection. It even has breakout cables that connect directly to each system's video port in addition to standard RCA hook-ups.
It supports both PAL and NTSC but since it's only designed for those older systems I doubt it will accept an HD signal. Oh and while you can have your computer and any one of the consoles hooked up to this adapter at the same time for easy switching they strongly caution against connecting all 3 systems to the adapter at once. I assume doing that will result in consequences not unlike crossing the streams in Ghostbusters.
The Console to VGA adapter is available from Merconnet for $52.99.