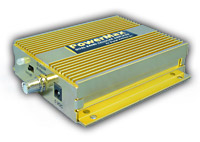 By David Ponce
While living in a reconverted cold war era bunker has its perks (like solid protection from your everyday nuclear attack), it also has its drawbacks, I would imagine. One of them would be the inability to receive a decent cellular signal indoors.
So, if the only way that you manage to make a call in your home is by stepping outside, perhaps you should consider purchasing a fun little repeater from Digital Antenna. It retransmits GSM, CDMA, TDMA, and PCS signals throughout your home, and can spray an area of up to 1000 square feet with wireless clarity goodness.
Not sure how much they are, but the company will be showcasing their latest, the 4KPR-15R, at CTIA this week.
[Digital Antenna] VIA [Wired Blogs]