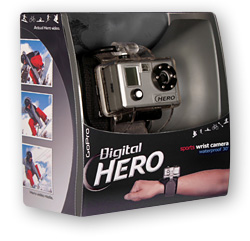 By Andrew Liszewski
While I enjoy underwater photography, even if it's just in the backyard pool I'm usually stuck with buying a disposable film camera since I don't like dunking my Nikon DSLR and waterproof housings for said camera are far from cheap.
The GoPro Digital Hero is a really basic digital camera designed to be strapped to your wrist and used for 'extreme' sports, whether wet or dry since it's contained in a shock-proof polycarbonate housing and is functional up to 30 feet underwater. Technically speaking the camera is pretty much the bottom of the barrel with a VGA (640×480) sensor and only 32MB of memory inside, but at that resolution you can at least store about 300 shots before dumping them to your PC via a USB cable.
Even with the waterproof housing I still think the Digital Hero's $79.95 price tag is a bit high, but if you think it will suit your extreme lifestyle you can buy one directly from the GoPro website.