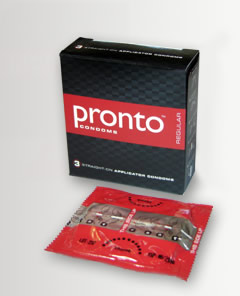 By David Ponce
Genius! Pure, unadulterated, raw genius! That's what this company has made: packaged genius. The Pronto condom is the last condom you'll ever need, my man, believe me. It's called Pronto for a simple reason: you can put it on in two seconds flat. Even less if you're in a hurry. Gone are the days of killing the mood in the name of protection. Gone are the clumsy drunken fumbles with a slippery packaging and the awkward nervous glances when you drop the damn thing on the bed, in the dark. The packaging for the Pronto is designed in such a way that two quick snaps split it down the middle and then serve as handles to unroll. And before you know it, the thing is on, and so is your game.
Words can't possibly describe this well enough. So, we're including two videos after the jump for your viewing enjoyment. It's fairly safe for work, unless your boss is easily offended and passed out during sex ed.
The only problem with these is that they seem to be available in South Africa only, at least for now.
[Pronto Condom Website] VIA [Medgadget]