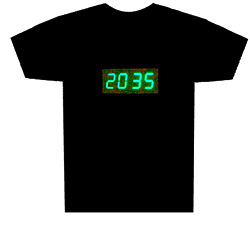 By Andrew Liszewski
This Digital Clock T-Shirt is the perfect solution for anyone who hates to wear watches but still always needs to know what time it is. (And also doesn't carry a cellphone, watch TV, listen to the radio, use a computer and lives in the desert.)
Coming only in black the Digital Clock T-Shirt has an electro-luminescent panel on the front that displays the current time in glowing green numbers. And if the static display doesn't fit your style you can select up to 8 different flashing patterns or even switch it to a stopwatch mode.
The shirt is powered by 4 AA AAA batteries which reside in a small, discreet pocket inside the shirt and will last between 12-36 hours depending on the flashing mode selected. And not surprisingly the shirt is hand-wash only.
The Digital Clock T-Shirt is available from LatestBuy.com.au for $59.95.
[Digital Clock T-Shirt] VIA [Uber-Review]