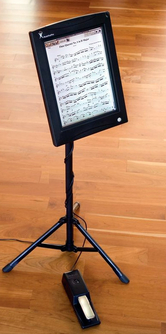 By David Ponce
If you're a serious musician, or a conductor or some such musical type, then this little device from Hammacher Schlemmer will seem like a Godsend. It's essentially an eBook reader on a stand, but, hell, it's really a lot more than that. Look at it like a fancy paperless music stand that will possibly change your career. Hmm… well, maybe not, but still, hear us out. The unit displays your music sheets on a 12 inch backlit LCD and allows you to turn pages by either touching the screen, or pressing a pedal. Since there's no paper, it means no noise during your performance. You can also scan sheet music to a computer and transfer it to the tablet, purchase and download over 85,000 scores from an online store, or transfer scores in PDF and JPG formats or from music software and store any of these on the included 128MB USB module (presumably upgradeable to more). But, the fun doesn't stop there:
The device also stores setlists, bowing and fingering charts, has an integrated metronome, pitch pipe, audio player for MP3, wireless capabilities, and comes with a file browser. Includes 128 MB RAM, two USB ports, video and audio ports, an audio player for MIDI, carrying case, and rechargeable battery that provides three hours of use (also plugs into AC).
As you can imagine, something like this doesn't come cheap: $1,400.
[Product Page] VIA [The Raw Feed]
****

A high-tech music stand goes great with a new Musical Instrument. For anything you may want from drums to Electric Guitars right over the internet.