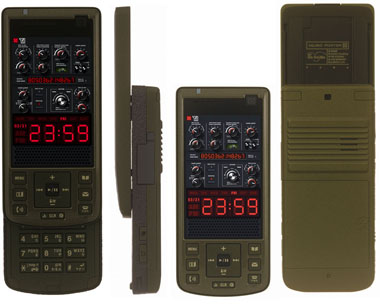 By David Ponce
This phone is either really fugly, or really pretty, but either way, it sure stands out. This army-style slider is called the Music Porter X, it's coming out from NTT DoCoMo sometime next month, and packs some interesting specs. Aside from the now-not-so-impressive 1GB internal memory, it also happens to play Sony's ATRAC 3 Plus format, which arguably delivers better quality at low bit rates than competing formats. Oh, and there's an FM tuner too.
Since its main purpose is to be a musicphone, other features were inexplicably downgraded. Like, with the craptacular 0.3MP camera. Perhaps we can forgive that when you realize that it also claims 20 hours of continuous music playback.
The handset uses Macromedia Flash as the foundation for its user interface, and it ships with a series of rugged, military looking apps full of knobs and dials – there's even a mock-up reel-to-reel screen – in keeping with the casing colour.
No word on price, or Western availability.